Enchanted Holiday Market
November 17 @ 8:00 am - December 18 @ 5:00 pm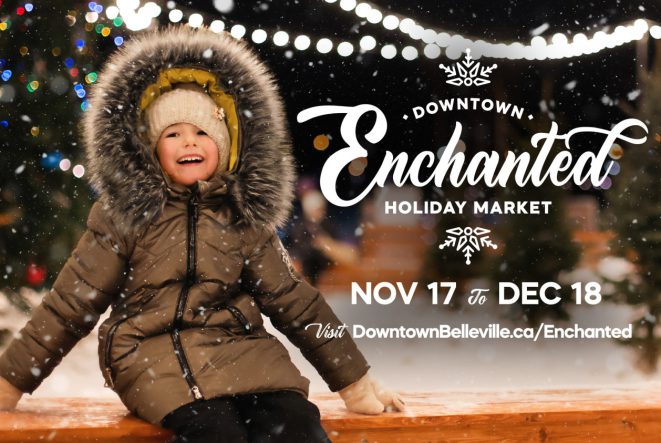 Experience the magic of the holiday season in Downtown Belleville! Head downtown for an Enchanted Holiday Market, Ice Skating, Horse and Carriage rides, local shopping, dining and pictures with Santa!
Kick off the Holiday Season with our Enchanted Launch Event on November 17th!
Experience our Enchanted Holiday Market from November 17th to December 18th.
---
Be Enchanted in the Downtown District.
Experience the magic!
THURSDAY – SUNDAY
November 17 – December 18
ENCHANTED HOLIDAY MARKET
To help you finish your holiday shopping before December 25, there will be an artisans market where you can shop for unique finds from decorated holiday hunts in the Downtown District. This 4 week event will feature new vendors each week on Thursdays/Fridays from 4pm to 8pm and Saturdays/Sundays from 10am to 4pm. To register to be a Side Hustle Holiday Hut Vendor click here.
INTERACTIVE LIGHT DISPLAYS
Walk the streets of our historic Downtown and take in the beauty of light displays. The LED swing set up in the Ekort Realty courtyard are perfect for Instagram-worthy snaps.  There is also giant trees at Front & Dundas or Century Village Square, the square frame by Empire Theatre, the gift ball frame between Ekort Realty and Twisted Anchor or the giant stars at Belleville Public Library!
SKATING RINK
Get ready to have some fun with skating in the Downtown District from November 17th to December 18th! Grab your stakes and get ready to make magical memories. Located off the Campbell Street Parking Lot.
HORSE AND CARRIAGE RIDES
It's beginning to look a lot like Christmas with free horse and carriage rides on Thursdays and Fridays from 6pm – 8pm and Sundays from 12-3pm.
FESTIVAL OF LIGHTS
Stay tuned for Festival of lights details!