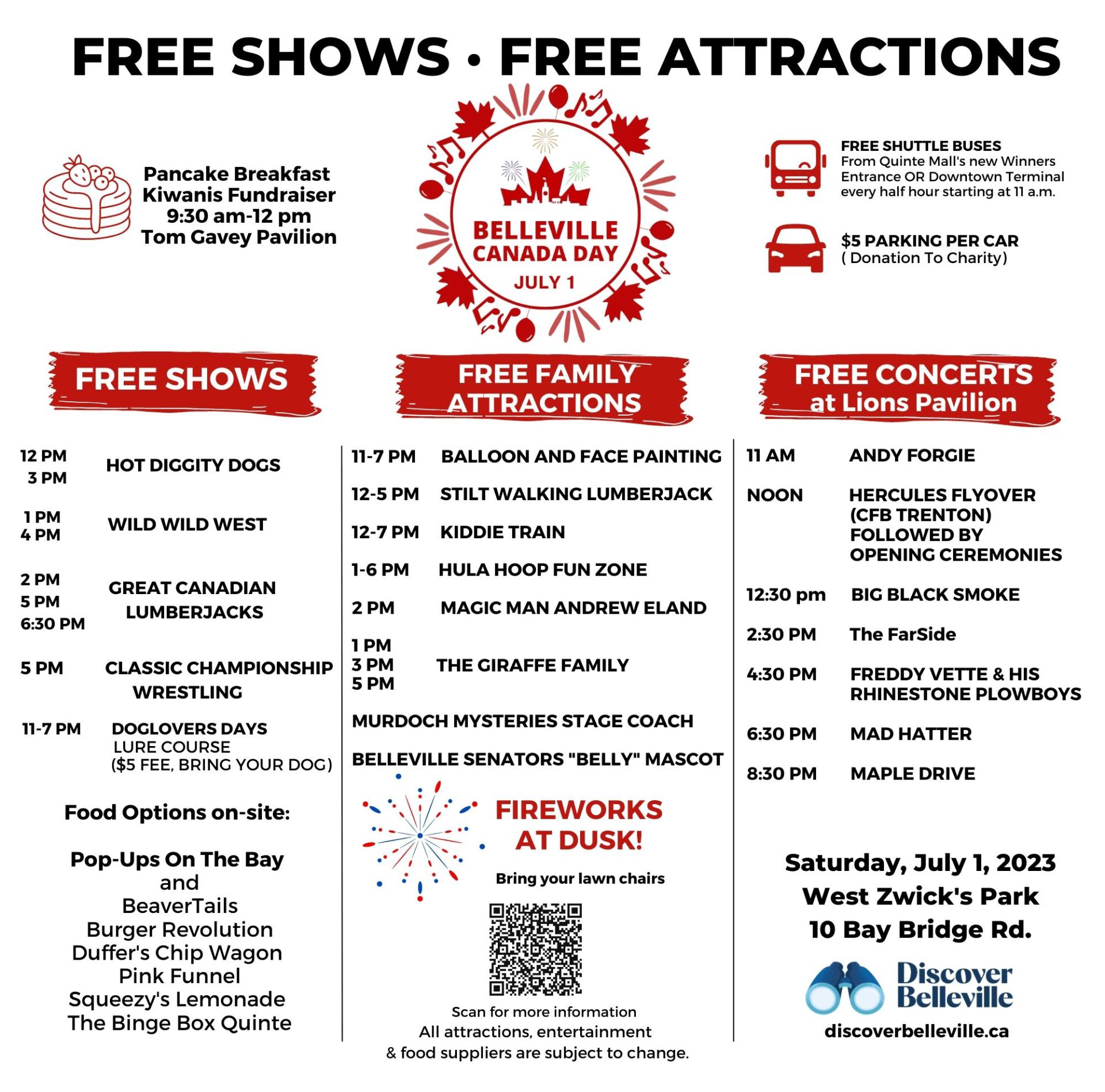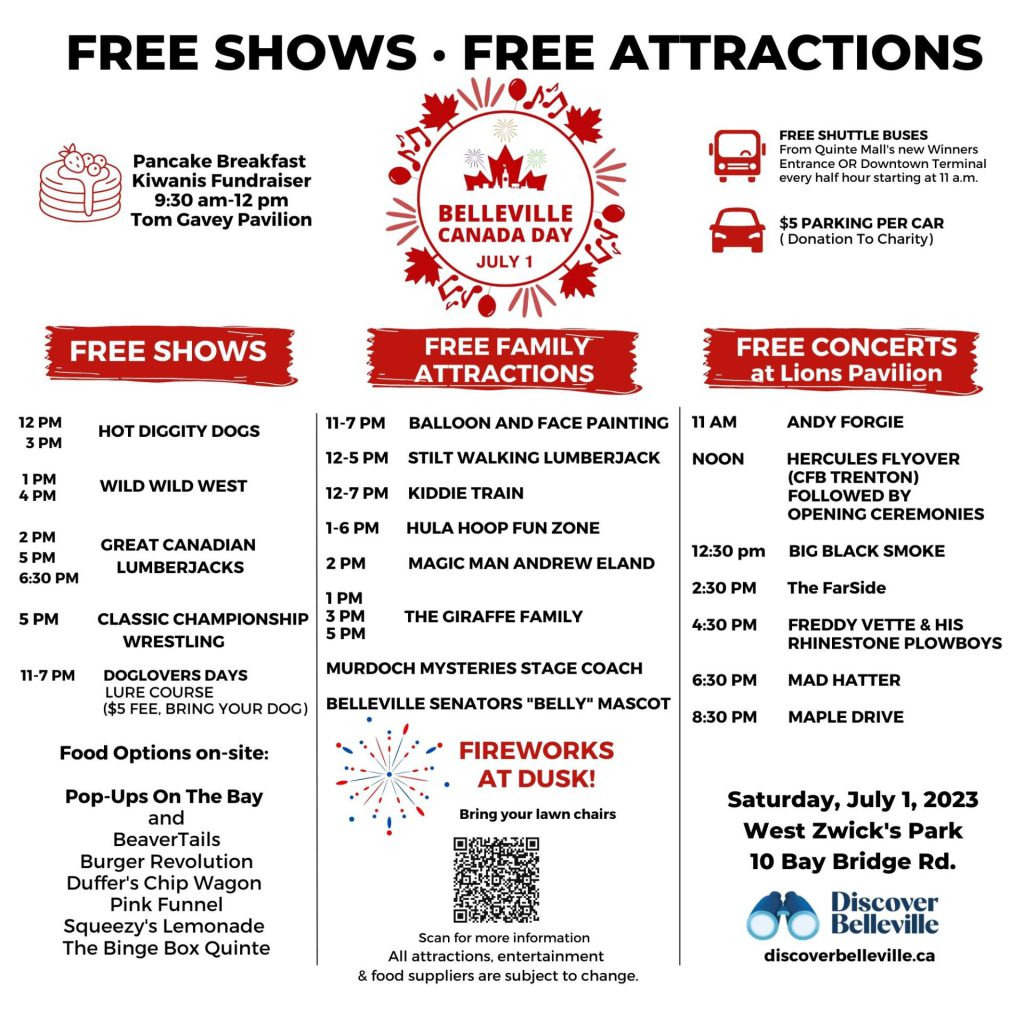 ---
---
On Saturday, July 1, 2023, we are excited to bring you an all-star lineup of FREE events and activities that are sure to make your day unforgettable.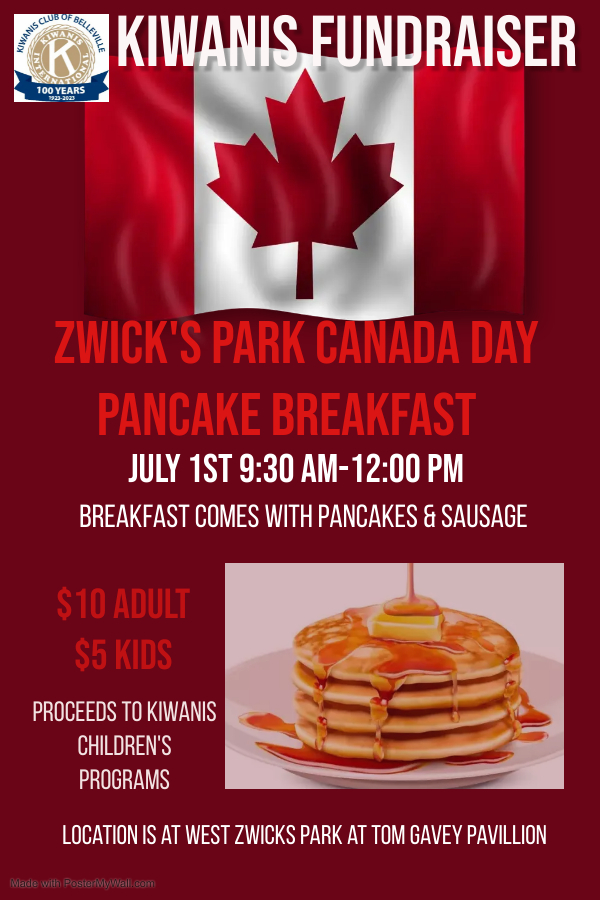 FREE SHOWS
12 PM & 3 PM HOT DIGGITY DOGS
1 PM & 4 PM WILD WILD WEST
2 PM, 5 PM & 6:30 PM GREAT CANADIAN LUMBERJACKS
5 PM CLASSIC CHAMPIONSHIP WRESTLING
11 AM-7 PM DOGLOVERS DAYS LURE COURSE
($5 FEE, BRING YOUR DOG)
---
FREE FAMILY ATTRACTIONS
11-7 PM BALLOON AND FACE PAINTING
12-5 PM STILT WALKING LUMBERJACK
12-7 PM KIDDIE TRAIN
1-6 PM HULA HOOP FUN ZONE
2 PM MAGIC MAN ANDREW ELAND
1 PM, 3 PM & 5 PM THE GIRAFFE FAMILY
MURDOCH MYSTERIES STAGE COACH
BELLEVILLE SENATORS "BELLY" MASCOT
---
FREE CONCERTS AT LIONS PAVILION
11 AM ANDY FORGIE
NOON HERCULES FLYOVER (CFB TRENTON)
FOLLOWED BY OPENING CEREMONIES
12:30 PM BIG BLACK SMOKE
2:30 PM The FarSide
4:30 PM FREDDY VETTE & HIS RHINESTONE PLOWBOYS
6:30 PM MAD HATTER
8:30 PM MAPLE DRIVE
---
FIREWORKS AT DUSK!
Bring your lawn chairs.
---
FOOD OPTIONS ON SITE
POP-UPS ON THE BAY
AND
BURGER REVOLUTION
DUFFER'S CHIP WAGON
PINK FUNNEL
SQUEEZY'S LEMONADE
THE BINGE BOX QUINTE
All attractions, entertainment and food suppliers are subject to change.
---
FREE SHUTTLE BUSES
From Quinte Mall's new Winners entrance OR Downtown Bus Terminal every 45 minutes starting at 11 am until 11 pm.
$5 PARKING PER CAR (DONATION TO CHARITY)
---